Latest Dunham Ridge News
The Salem News - February 24, 2023
The city is planning to spend $850,000 to revive a plan to build a bridge over Route 128 connecting Brimbal Avenue and Dunham Road at a different point and create new exits off the highway directly to Dunham Road.
More
The Salem News - May 20, 2022
A developer is planning to build a five-story apartment building on Dunham Road that would be mostly for people over the age of 55. The new building would include 160 apartments and would be built on an open 4-acre site on a section of the Dunham Ridge campus that is next to the former Salem News building.
More
Boston Real Estate Times - April 20, 2022
Members of the leadership team of Massachusetts Biotechnology Council (MassBio) recently visited Cummings Center and Dunham Ridge in Beverly and Cummings Properties' flagship TradeCenter 128 campus in Woburn to tour several life sciences companies.
More
Beverly Herald Citizen - July 26, 2021
New large-scale contemporary outdoor sculptures are creating a buzz throughout the community. The bright orange roadside art appeared in recent weeks at 12 Cummings Properties locations, including Beverly's Cummings Center and Dunham Ridge business, science, and technology campuses.
More
New England Real Estate Journal - May 14, 2021
Legendary software builder, serial entrepreneur, and former Microsoft executive Ray Ozzie has launched another high-tech venture. Cellular IoT company Blues Wireless is the latest addition to Cummings Properties' Dunham Ridge campus.
More
The Salem News - April 22, 2021
New England Biolabs, the company that got its start in Beverly in the 1970s, is establishing another foothold in the city that it never really left. The life sciences company is planning to open a new custom-built research and development lab at Dunham Ridge, the growing office park on Dunham Road.
More
Boston Real Estate Times - March 26, 2021
Acculab Measurement Standards Laboratory has leased 6,100 square feet at 48 Dunham Ridge, a Cummings Properties-managed business and technology center in Beverly, MA.
More
Banker & Tradesman - February 9, 2021
A hearing loss specialist has joined more than 100 health care providers that lease space from Cummings Properties in Beverly. Tobias & Battite relocated last month from Cabot Street to a custom-built facility at Cummings Properties' 48 Dunham Ridge.
More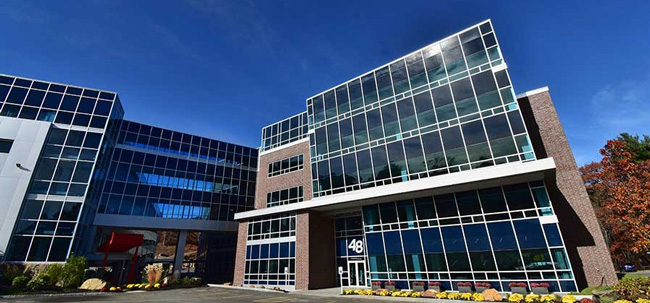 Boston Business Journal - October 30, 2020
French flavor manufacturing company Prova Inc. has moved its American headquarters to Dunham Ridge in Beverly from just a few miles away in Danvers, as the company anticipates doubling its business in the next five years.
More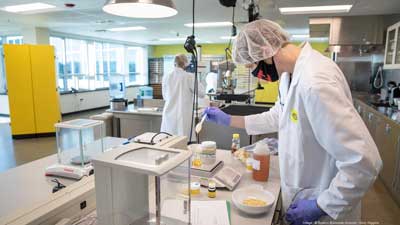 Commercial Property Executive - September 3, 2020
The pandemic has acted as a catalyst for a new wave of development in the life sciences and tech sector. Cummings Properties' Dunham Ridge in Beverly, Mass., is one of the projects representative of this trend.
More
Demonstrating confidence in suburban growth, northeast developer Cummings Properties continues its expansion at Dunham Ridge. The firm is now developing a major new 700,000-square-foot science and lab cluster fronting on Route 128 at Exit 46 (formerly Exit 19) in Beverly.
More
The newest building available for occupancy at Dunham Ridge is preparing for the arrival of PROVA INC., a 73-year-old flavor and extract manufacturer headquartered in France. The family-owned and -operated business specializes in flavor and extract production for vanilla ,coffee, cocoa, and other sweet brown flavors.
More
International motion control technology firm Harmonic Drive LLC is ready to occupy its new US headquarters at the growing Dunham Ridge campus. The company recently held a ribbon-cutting ceremony at its 97,000-square-foot property, which houses office and manufacturing functions. Attendees included leaders from the firm's Japanese parent company, including CEO Akira Nagai and Chairman Mitsumasa Ito, as well as Beverly Mayor Mike Cahill, and Massachusetts Housing and Economic Development Secretary Michael Kennealy.
More